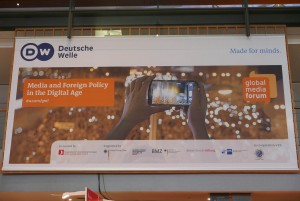 This year's Global Media Forum (GMF) provided us with the perfect opportunity to present our BRICkS project and to collect statements concerning hate speech.
More than 2.000 visitors from all over the word got together to discuss "Media and Foreign Policy in the Digital Age" and the BRICkS team was part of the conference, too. We informed the visitors at the interactive corner about the project and found people to be very interested in the hate speech topic.
We asked the participants to answer two questions in form of a video interview. We will publish the interviews one by one and you can find them on the right sidebar and on our Youtube channel. The results will be part of our toolbox later.