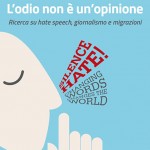 CONFERENZA STAMPA DI PRESENTAZIONE:
Federazione Nazionale della Stampa
17 marzo 2016 – ore 12.00
Corso Vittorio Emanuele 349, sala Tobagi
14 marzo – In occasione della giornata mondiale contro il razzismo (21 marzo), la Federazione Nazionale della Stampa, Articolo 21, Carta di Roma e COSPE, in collaborazione  con www.illuminareleperiferie.it, presentano la ricerca "L'odio non è un'opinione. Hate speech, giornalismo e migrazioni". La ricerca realizzata da COSPE nell'ambito del progetto europeo contro il razzismo e la discriminazione su web, "BRIKCS" – Building Respect on the Internet by Combating hate Speech", ha approfondito questo fenomeno tramite l'analisi di casi studio ed interviste a testate e testimoni privilegiati.
Social media, siti e social network sono infatti diventati uno spazio fertile per la diffusione della xenofobia, islamofobia, e discorsi antisemiti e razzisti.
La ricerca ha indagato, attraverso interviste alle testate e analisi di casi studio, le problematiche di gestione delle proprie community e più in generale del lavoro giornalistico ai tempi del web: dalla libertà di espressione alla necessità di regolamentazione, dal ruolo dei giornalisti a quello dei social media manager, dall'obiettivo di informare a quello di coinvolgere e le soluzioni diverse da parte delle redazioni, in una fase di sperimentazione contraddistinta da una difficoltà di adattamento alla dimensione digitale.
Lo stesso giorno sarà lanciata la campagna europea: "Silence hate – changing words changes the world" con l'hashtag #silencehate con l'obiettivo della campagna web è proprio porre l'attenzione sulla necessità di impedire la diffusione dell'odio e promuovere un uso consapevole della rete.
Durante la conferenza sarà distribuita la ricerca.
Interverranno:
Giuseppe Giulietti – Presidente FNSI
Pietro Suber – Associazione Carta di Roma
Alessia Giannoni – COSPE
Elisa Marincola – Articolo 21 / Illuminare le periferie del mondo
Per info: Ufficio stampa COSPE: Pamela Cioni – tel. 055473556 – cell. 3382540141 – pamela.cioni@cospe.org