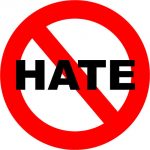 Launched on 2015, "Countering Online Hate Speech" publication is a part of the ongoing UNESCO Series on Internet Freedom. The study has been realized in cooperation with the Programme in Comparative Media Law and Policy at the University of Oxford. It provides an overview of the dynamics characterizing online hate speech with the aim of disseminate some of the measures adopted to mitigate it, and good practices developed.
In the introduction we can read: "Hate speech online is situated at the intersection of multiple tensions: it is the expression of conflicts between different groups within and across societies; it is a vivid example of how technologies with a transformative potential such as the Internet bring with them both opportunities and challenges; and it implies complex balancing between fundamental rights and principles, including freedom of expression and the defence of human dignity.".
The research focuses on four areas of study. First of all, the "definition" of the hate speech; secondly the "jurisdiction" of the national governments and the role of transnational companies; the "comprehension" especially the character of online hate speech and its relation to offline speech; lastly the "intervention", meant as the identification of a variety of methods that have been used to address specific and contextual problems.
To learn more about the publication please click on the link