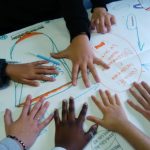 Promoted by UNESCO, the Campaign Unite4Heritage purposes to defend cultural heritage and diversity around all over the world.
It is designed to empower the mobilization of governments and all heritage stakeholders in response to the deliberate damage to cultural heritage, especially in the Middle East. Moreover, it invites everyone to oppose to any extremisms and radicalizations by celebrating the places, objects and cultural traditions.
Among its areas of interest, it is important to highlight that Unite4Heritage is engaged in "cultural diversity education", which is a topic strictly connected to BRICKS' aims. The coalition works to ensure young people can use the Internet without risk of radicalization, and to Counter Online Hate Speech through media and information literacy. It rises up against any types of extremist and negative narratives that call for attacks on cultural diversity.
Visit the site to get involved in UNITE4HERITAGE!