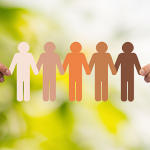 This article was published on Illuminare le periferie del mondo on October 2015 and it focused on the spread of online hate speech against migrants and minorities and on the experience of Bricks project.
This new website was promoted by a large group of Italian civil society organizations and aims at informing about news and facts that are usually not published by mainstream media.
All recent studies show that on websites, blogs and social networks the hate speech are increasing, especially among young people. "Elephant in the room" has been described by those who daily have to manage the flow of comments on social media. A cultural and educational action to contrast the proliferation of racist and violent online messages is urgent.
Read the Italian version here