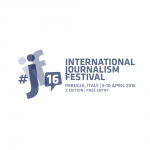 The 10th edition of the International Journalism Festival will open on 6th April in Perugia.
During the five days of Festival, journalism is principally participation and conversation, thus attendees and speakers from all over the world will take part; the focus is not only on journalism, but also on areas of public interest such as the migrant crisis, war, terrorism, freedom of expression and the fight against censorship, and many more. The issues in play are many: fact-checking, explanatory journalism, the role of platforms, the involvement of readers and the civic role of journalism.
It is important to highlight that several workshops will address the issues pertaining to online hate speech. Here some of the seminars that interesting our topic: Less hate more speech: breaking the bad in online comments, The coral project: building better communities, Expression of hatred on the web, and Online hatred: verbal violence and obsessions.
Check the full festival programme and visit the website to learn more about the event!