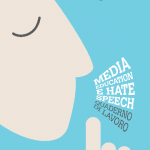 After 200 hours workshops in 5 schools and 580 students involved, it is finally available online the training module realized in the framework of BRICkS Project.
Realized by Cospe and Centro Zaffiria, the module is addressed to teachers and educators with the objective of promoting the active role of young people in the prevention and fight against online racist and xenophobic speech.
The training module was created through three phases. Firstly, a participatory process made up of meetings with different stakeholders, such as social media managers and other web experts, teachers, educators and second-generation activists. Secondly, two days of seminar, on September 2015, with educators from Emilia Romagna and Toscana Region, with interventions of professors and experts on the subject, supported by activities and games of role. Lastly, the module was tested through workshops in five upper secondary schools in Tuscany and Emilia Romagna Region.
These workshops were instrumental for the creation of the training module, which is based on everyday life of students: their experiences, opinion, strategies, and emotions.
The methodologies adopted have the objective of connecting the problem to the concrete experience of the students, to stimulate their reasoning and their positive action. As a result, the module contains activities and resources to prevent and combat hate on the Internet, it collects concrete solutions and ideas to promote further studies and to engage students and teachers through games of role, videos, and debates.
The training module will be distributed to the schools and to the National and Local institutions of the Education sector, and a free download is available here.
The module is receiving a good attention from the media and some of the articles are reported below:
Stampa: http://www.lastampa.it/2016/09/21/cultura/scuola/un-modulo-on-line-spiega-come-prevenire-lhate-speech-e-il-cyberbullismo-Uhs4eaJq8Lc2Xn4ml2j0mN/pagina.html
Repubblica: http://osservatorio-cyberbullismo.blogautore.repubblica.it/2016/09/20/arriva-il-modulo-didattico-contro-lodio-on-line/
Vita:  http://www.vita.it/it/article/2016/09/21/zitto-cyberbullo-un-progetto-didattico-contro-lhate-speech/140841/
Orizzonte scuola: http://www.orizzontescuola.it/integrazione-un-vademecum-nelle-scuole-per-combattere-listigazione-allodio/